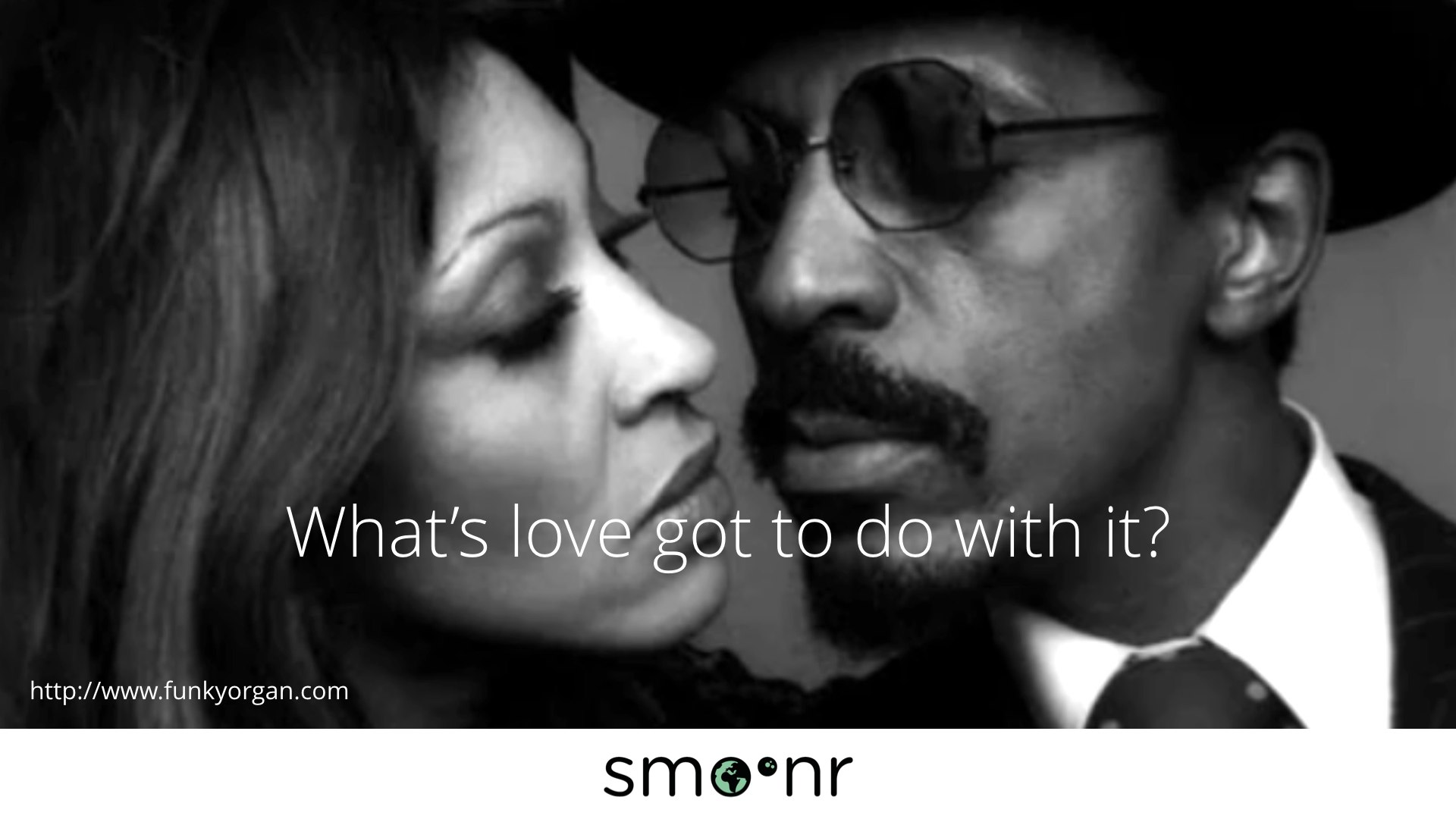 24 Nov

"

Love Thy Users" — how love can boost your app — App Pro­mo­ti­on Sum­mit Ber­lin 2014
What's love got to do with it?
Why am I tal­king about love? Not only becau­se it is a very light-weight topic befo­re we clo­se our con­fe­ren­ce, but also becau­se love and app marketing are based on sci­en­ti­fic rese­ar­ch. Neu­ro­mar­ke­ting is the rea­son why. When you google Neu­ro­mar­ke­ting — whe­re the con­nec­tion bet­ween cer­tain brain activi­ty and marketing mes­sa­ges are inves­ti­ga­ted — you will cer­tain­ly come across one stu­dy which was inspi­red by a series of TV com­mer­ci­als from the 70s and 80s whe­re peop­le were asked to take "The Pep­si Chal­len­ge". In the commercial's blind tas­te test, Pep­si was usual­ly the win­ner. Howe­ver, when the sub­jects knew what the were drin­king, 75% said they stil­led pre­fe­red coke. So even when the obvious­ly bet­ter choice is right in front of you and ratio­nal­ly the one to take, 3 quar­ters of peop­le still go with their emo­ti­on and deci­de dif­fer­ent­ly.
If you want to know more about it — I advice you to buy the book Buyo­lo­gy — truth and lies about why we buy — by Mar­tin Lind­strom. He docu­ments 3 other inte­res­ting insights:
Warning Labels on ciga­ret­te packa­ges sti­mu­la­te activi­ty in a brain area asso­cia­ted with cra­ving — so ins­tead of repel­ling it makes smo­kers despe­ra­te­ly nee­ding the next ciga­ret­te. So even some dis­gus­ting add-on might not be effec­tive when con­su­mers realls love a brand / pro­duct.
Images of domi­nant brands — such as App­le sti­mu­la­te the same part of the brain like reli­gious sym­bols
An image of a Mini Cooper let our brains think we are loo­king into a person's face
That means, ever­yo­ne of us is more likely to build up a rela­ti­ons­hip with a brand, a pro­duct or an app when its marketing mes­sa­ges and public com­mu­ni­ca­ti­on affects are­as of our brain that are also in use during emo­tio­nal situa­ti­ons.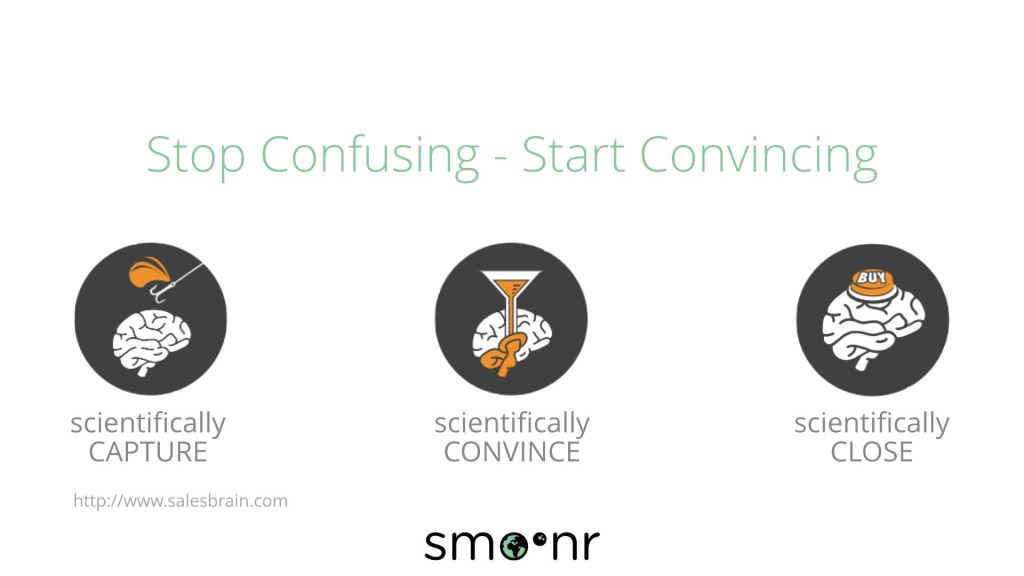 For clo­sing the deal with your app that means you must get a lot of atten­ti­on, clear­ly and sim­ply explain how and why to use your app (as done with appea­ling pre­view videos and in-app-tuto­ri­als) and crea­te an addic­tive user expe­ri­en­ce. I know that is easi­ly said and hard to achie­ve, but let's take a look how it can be achie­ved.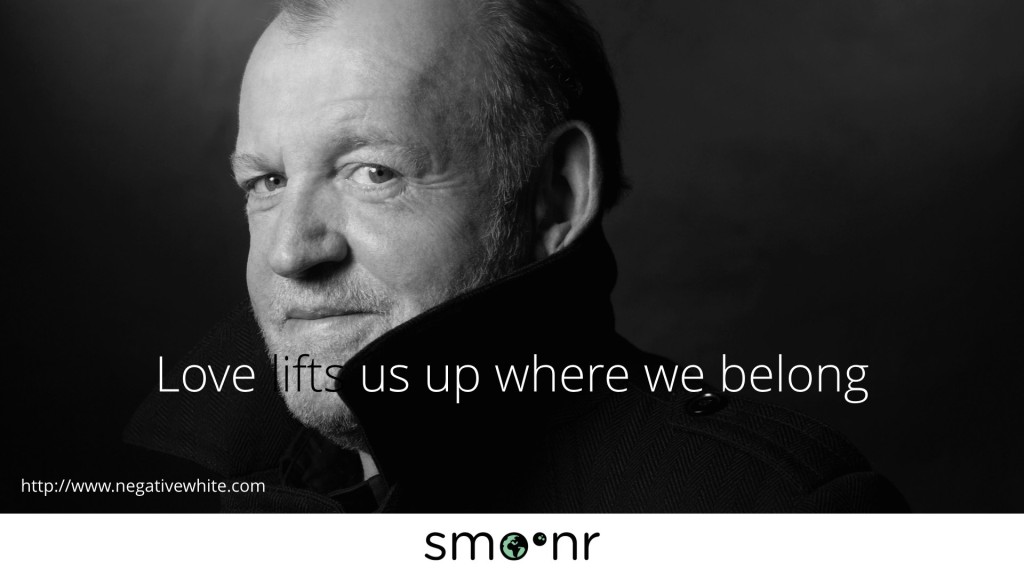 How can Love lift us up whe­re we belong (num­ber 1 in the App Store)
Good Rela­ti­ons — the base for emo­tio­nal dis­curs — are build upon authentic, trans­pa­rent, honest and indi­vi­dual dia­logs. Your best stra­te­gy if you want to set up a dia­log with your users is: Treat them like fri­en­ds. Pick up the pho­ne at night, help them moving, lis­ten to them and sol­ve their pro­blems. Be more than an app — be the per­son behind the app.
So how can your app, your game beco­me a bel­oved brand? Sal­dy that only works if others say that. Even if our brain reacts to marketing mes­sa­ges, we don't neces­sa­ri­ly want to lis­ten to mar­ke­teers or brands. We rather belie­ve peop­le in our envi­ron­ment, peop­le that are like us or in the same situa­ti­on. So we need others to give us ratings, reviews and use our ser­vice.
Say you love me: How do we con­vin­ce peop­le of rating us posi­tive­ly?
The most import­ant basics are:
Make your app shine in the App Store: Use your best desi­gners, good copy­wri­ting and smart videos to shine and rise.
For your infor­ma­ti­on archi­tects: Focus on a great user expe­ri­en­ce and always have in mind the cons­instent jour­ney through your app
React on nega­ti­ve feed­backs immi­dia­te­ly and direct­ly. Thank god, users are more likely to give posi­ti­ve rather than nega­ti­ve feed­back. But if you get a bad review — try to real­ly sol­ve their problem. Take all the feed­back given, make a bet­ter ver­si­on of your app and make it up to the users indi­vi­dual­ly who were not satis­fied befo­re.
Let's talk about timing and word­ing. Asking for a review at app laun­ch is the worst pos­si­ble time to ask. Your user has not even tried your app yet and he cer­tain­ly does not want to rate it befo­re see­ing what it's all about. As most­ly the­re has cer­tain­ly occu­red an urgent need to open it to ful­fill some tasks. Rather choo­se a moment when some­thing posi­ti­ve or rewar­ding has just hap­pe­n­ed. For games that can be ber­fo­re reaching the next level or after having achie­vend a new high-score. Never inter­rupt the user work­flow — so never ask bet­ween two con­se­cu­ti­ve key actions of one pro­cess. A sim­ple feed­back but­ton often per­forms bet­ter than the usual alert box. You can also crea­te a review invi­ta­ti­on that not always ends up in the App Store but dis­tri­bu­tes dif­fe­rent emo­ti­ons — just like Ember does that: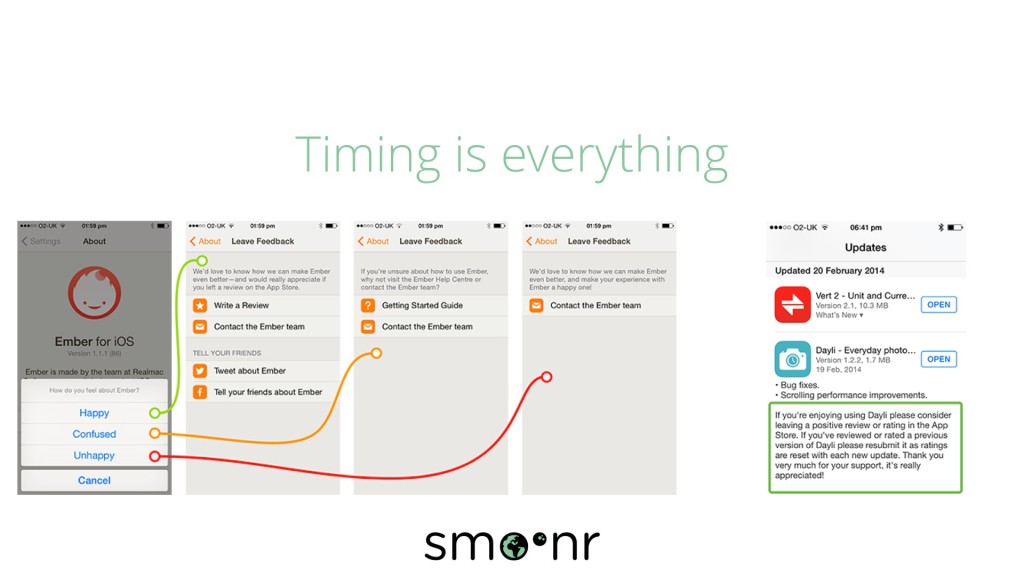 Ask out­s­ide the app — wit­hin the update rou­ti­ne, to get new ratings for the new ver­si­on. When your users say no thanks — belie­ve them and never ask again. Be honest, tell them exact­ly what you want but in a nice way. "If you love our app, plea­se help uns by giving us a 5 stars!"